Historic moment as HS2 launches first giant tunnelling machine
Publicerad: 14 maj, 2021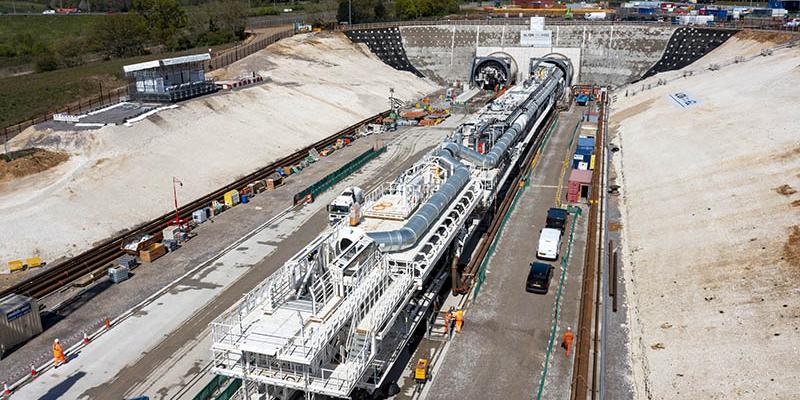 HS2 launches 'Florence' – the first of 10 HS2 Tunnel Boring Machines (TBMs) that will dig 64 miles of tunnel on Phase One of the UK's new high speed railway This first 170m-long TBM – the largest ever used on a UK rail project – will dig 10 miles of tunnel under the Chilterns, operating 24/7 for the next three years.
A new animation explaining how the TBMs work, impressive drone footage of the machines, and new images and video of the site are available to download for broadcast and print here.
Transport Secretary Grant Shapps: "The tunnels these machines dig will ensure the benefits of our new high-capacity, high-speed railway run to the great cities of the North and Midlands, forging stronger connections in our country, boosting connectivity and skills opportunities, and transforming our transport links."
HS2 Ltd will today [Thursday 13 May] announce the launch of the enormous 2,000 tonne tunnel boring machine (TBM) 'Florence' from HS2's South Portal site next to the M25 in Buckinghamshire, at an event attended by HS2 Minister Andrew Stephenson and HS2 Ltd CEO Mark Thurston among others.
The launch of the first of ten giant tunnelling machines that will dig 64 miles of tunnels between London and the West Midlands, is just the latest example of how HS2 is securing jobs and helping the UK to build back better from the pandemic.
More than 16,000 jobs and over 500 apprenticeships are already being supported by the project, which is set to transform transport links between Britain's major cities, free up space on the rail network for more freight and local services and support the UK's transition to net zero carbon emissions.
Welcoming the news, HS2 Ltd Chief Executive Mark Thurston said:
"The launch of our first tunnelling machine is a major moment of progress for the HS2 project as we work to deliver a high-speed railway that will offer low-carbon alternatives for long distance journeys across the UK.
"With more than 16,000 jobs already supported by the project and thousands of companies big and small benefiting from contracts, HS2 is providing a major boost to the economy in these difficult times. The start of tunnelling is a moment of genuine excitement for everyone involved, and I hope the entire country will get behind this truly transformative project."