Teams onsite for complex HDD under Neris River
Publicerad: 17 juni, 2020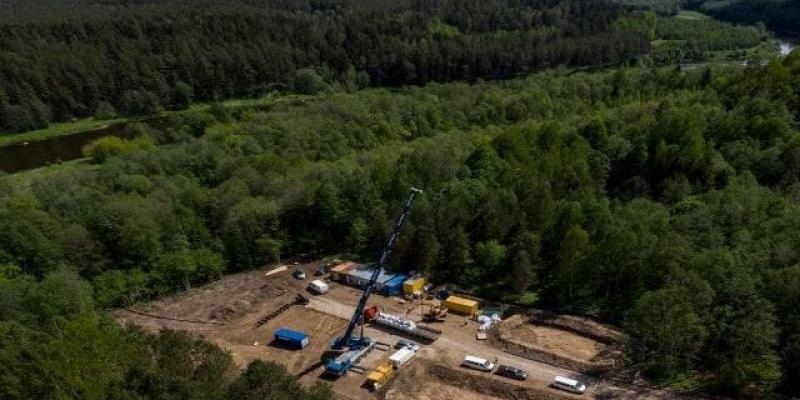 A team of German specialists has arrived in Lithuania to undertake the horizontal directional drilling (HDD) phase of the Gas Interconnection Poland–Lithuania (GIPL) project.
The GIPL is an under-construction 508 km gas pipeline running between Poland and Lithuania which, once commissioned, will see Baltic countries and Finland integrated into the European Union (EU) gas transmission system.
Project proponent Amber Grid has enlisted German company LMR Drilling to perform the HDD portion of the project under Lithuania's Neris River, with a team of 37 German specialists arriving onsite last week for a campaign that is expected to take around two months.
In preparation for the drilling, a special work site has been set up on the bank of the Neris near Kazokiškės in the Elektrėnai Municipality, where the equipment brought by LMR Drilling has already been installed.
On the other side of the river at Kernavė, a special pipe was welded in May that will be drawn along the bottom of the Neris, at a depth of 20 m.
By using HDD technology to drill the gas pipeline under the Neris river – and later this year under the Nemunas River as well – the surrounding environment including fauna and flora will be preserved and unaffected.
Amber Grid CEO Nemunas Biknius said although the COVID-19 lockdown is still in place in Lithuania, work on GIPL can continue.
"We have already completed 25 per cent of the work for the entire project, and we are now beginning construction of the gas pipeline under the Neris," he said.
"We chose complex and professionally demanding HDD technology in order to minimise the impact on the environment."
The GIPL has an estimated project value of €500 million and when complete will have a capacity of 2.4 billion m3 per year.
For more information visit the Amber Grid website.