Versatility key for kwik-ZIP
Publicerad: 12 november, 2019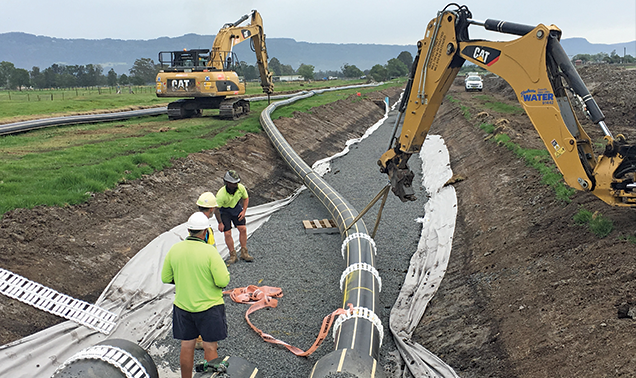 The versatility of kwik-ZIP's range of spacers and centralisers continues to make a mark both in Australia and abroad.
Established in 2000, kwik-ZIP's spacers and centralisers have been developed to solve support, grading and centralisation challenges in the trenchless and pipeline, vertical production drilling and ground engineering industries.
kwik-ZIP Spacers are designed for many industry sectors including production well drilling, trenchless pipeline, horizontal directional drilling (HDD) and the general civil and construction markets. Key to the success of the business is the versatility of the product range, thereby enabling the products to be utilised across a wide variety of applications.
Standing proudly as the only Australian designed and owned centraliser and spacer system available on the market, the business has recently focused on establishing growth and diversification through export sales to the US, Asia, New Zealand, the Middle East and Europe. In these locations, kwik-ZIP's expertise, responsive customer service, cost-effectiveness, innovative range of products and applicability across multiple international industries has driven consistent demand.
Industry recognition
kwik-ZIP spacers are accredited by a number of industry agencies including:
Water Services Association of Australia

– HDX spacers meet Product Specification PS-324 Casing Spacers
South-East Queensland Water Supply and Sewerage Design and Construction Code – HDX and HD spacers included on the Accepted Infrastructure Products and Materials (IPAM) list
Melbourne Retail Water Agencies (MRWA) – HDX and HD spacers are included on the MRWA Approved Products list for the group's three water utilities,

South East Water

,

Yarra Valley Water

and

City West Water

.
For standard pipe-in-pipe applications such as sliplining and cased crossings for all medium to heavy weight pipe materials, the product's design enables it to be used on many different pipe profiles, within rough or smooth surfaces, open bores, pipe bundled arrangements and much more.