Europe's first electric Auger boring option
Publicerad: 17 december, 2021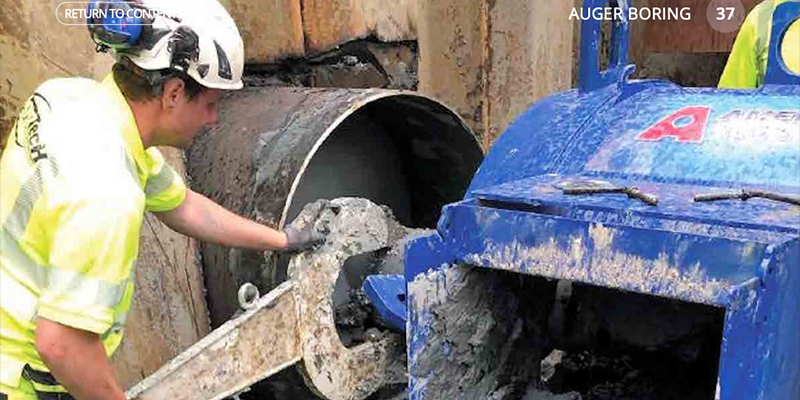 AUGERBORING: The demand for electric vehicles is not limited to passenger vehicles. The drive to be more environmentally- friendly has reached the underground construction industry, too. Especially in Europe, where regulations aimed at reducing a crew's carbon footprint are rising, and the public is valuing, more than ever, underground construction crews who look for green options.
One company that has been a pioneer in green underground construction options is the Swedish company Riggtech. A versatile company that works on a wide range of underground construction jobs, from horizontal directional drilling to auger boring, Riggtech has been a dominant player in the Swedish market for 10 years, and strives to use the most modern, environmentally-friendly machines on the market.
That is why the company recently purchased an American Augers 36/42-600E, making Riggtech the first company in Europe and the only underground construction company in the area with an electric auger boring machine.
"It is very important to us and to our customers to be as environmentally-friendly as possible, and so we always look for machines that allow us to accomplish that." said Anders Olsson, owner and business manager of Riggtech. "When American Augers showed us its electric auger boring machine, the decision to invest in that machine was a simple one."
As environmental standards and regulations on noise pollution continue to grow, the 36/42-600E allows Riggtech to bid on jobs that no other company can.
"The electric auger boring machine is a differentiator for us. The public really appreciates that we offer an environmentally-friendly option, and many cities are now requiring crews to meet carbon- footprint or noise pollution standards. Since we are the only company that owns an electric auger boring machine, we are the only company that can meet many of those regulations." Olsson said.
The 36/42-600E not only allows Riggtech to win bids, though. The machine's durability, remote- control operation and sound-reduced operation help Riggtech to quickly and quietly complete some of the most challenging jobs in the area.
Gothenburg Central Station Job
Riggtech recently used the 36/42-600E on a storm sewer installation in Gothenburg, Sweden's Central Station. The project was being led by NCC Construction, which was under contract to install an entire storm sewer in the central area of town. Riggtech was hired to complete a 36 m bore through the Central Station.
One of the biggest challenges on this job was keeping the noise down. Local restrictions mandated that construction crews keep their noise level at 98dBa. This noise restriction was in place partly because of the population level near of the jobsite, with over 20,000 people per hour travelling through the Central Station.
NCC Construction reached out to Riggtech because it had heard about its electric auger boring machine and its ability to complete bores while staying below decibel regulations.
Since an electric auger boring machine does not run on diesel fuel, it was powered in this case by connecting to a local electric grid,
it is significantly quieter than a standard auger boring machine. This meant that Riggtech could complete the job while still easily meeting Gothenburg's regulations on noise.
The job did not just require Riggtech to keep the noise down, though. Due to the busy nature of the jobsite, NCC Construction had only 14 days to complete the job. This meant that Riggtech had only three days to complete its part. This time constraint placed efficiency and uptime at a premium.
Another aspect of 36/42-600E that helped on the Gothenburg job was its remote-control feature. "The ability to stand away from the machine and operate it protects my crew and gives them more visibility into how the machine is functioning, which can be difficult to see while standing on a machine and operating it." Olsson said. "By standing off to the side, the operator can see if the auger boring machine is stable and centred or if it needs to be adjusted."
Well-Rounded Equipment Arsenal
Due to the Gothenburg Central Station being a highly populated and space-restricted area, Riggtech needed to employ equipment solutions beyond just auger boring to complete the installation.
One section of the bore path was underneath a road where Riggtech's crew had limited visibility. To ensure that the bore would be able to pass this section without any disturbance, Riggtech's crew decided to do an exploratory HDD bore with a Ditch Witch AT40 All-Terrain Drill.
Unfortunately, the exploratory shot was complicated. First,
it needed to be launched from 100 m away from the road to avoid an unacceptable road closure. Secondly, the ground contained boulders, tightly packed gravel and eventually clay. With help from the AT40, Riggtech was able to drill through these problem conditions and find the soil conditions they were looking for.
Another difficulty the Riggtech crew encountered was an underground environment already congested with existing utilities. To track its drill head and bores through the crowded underground area and keep its crew safe, Riggtech used a TK Recon HDD guidance system from Subsite Electronics.
The Solution of the Future
With the help of American Augers, Ditch Witch and Subsite equipment, Riggtech was able to complete the Gothenburg job on time, on budget and with a limited carbon footprint. Furthermore, Olsson is confident that there will be many more jobs like this one in the future, especially for its electric auger boring machine.
"Overall, people want to be more environmentally friendly and they appreciate the reduction of noise. Cities are looking to improve and find the solutions of the future." Olsson said. "Well now know this solution has been found, and it is in Riggtech's fleet.